Another HOTT Steam event comes your way with a star studded evening... ADULT stars that is! Steam has been dominating Adult Industry events for years with parties of pure style and decadence. And they invite you to come meet the hottest, sexiest, and newest faces of the Porn Industry on Saturday, June 23rd.
The 'eXXXtra eXXXtra' dvd release party will be a spectacular event hosted by the stars of the film... Sunny Lane, Nikki Benz, Audrey Hollander, Lexi Love, Rachel Roxxx, Kelly Wells, Kurt Lockwood and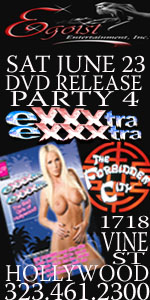 Nick Manning! And if that's not enough stimulation for you, the famous faces from Playboy, Hustler, Smash Pictures and MORE will be in the house rockin' the night away! Steam's very own DJ RO will be there spinning only the latest and hottest music.
So don't waste another minute! Contact gusfreelance@hotmail.com to get yourself on the guest list for an evening that is sure to please. All Adult Industry affiliates will be granted FREE access all night long to enjoy the Steam event with all their colleagues. Saturday, June 23rd, after the Erotica L.A. Expo, come party like a rock... PORN star that is!
Location: Forbidden City, 1718 Vine St., Hollywood, CA. 818.464.3737.
Industry RSVPs: Adult Industry only, please e-mail gusfreelance@hotmail.com or Brian Scott at brian@egoistent.com
Smash Pictures & Gus Freelance Present the DVD release party for Smash Pictures' "White Wife Black Cock #8" on Wednesday, June 20 at the start of Erotica LA.
Hosting this event will be the director Bishop (star of Showtime's Family Business) along with plenty of hot female talent that have starred in various Smash releases including: Veronique Vega, Gwen Diamond, Whitney Stevens, Aubrey Adams, and Jasmine Tame.
Location: Vanguard. 6021 Hollywood Blvd., Hollywood, CA. 323.463.3331.
Industry RSVPs: Adult industry only, please e-mail gusfreelance@hotmail.com
Mr. Marcus Hosts Daddy's Day Bash on June 17th
HOLLYWOOD - AVN Hall of Famer Mr. Marcus and his recently launched company, Daddy Inc., will host the first "Daddy's Day Celebration" at Nacional (1645 Wilcox Ave.) in Hollywood on Father's Day, June 17.
The party kicks off a week of festivities for Marcus, culminating in Erotica LA, June 22-24 at the Los Angeles Convention Center.
Red carpet arrivals will begin at 9:30, and all industry talent and executives will receive VIP entry all evening. DJ Needles will be spinning hip-hop until 2 a.m. Nacional includes two full service bars, an upstairs lounge, upstairs smoking patio, downstairs lounge, and dance floor.
To RSVP, e-mail Daddy@hollywoodafterdark.com. The event is 21 and over.
Full power will be delivered by the brightest names in the nightlife circuit such as powerhouse promoters Louis Depaz, Monkey Love Ent, Nne Ent, Sick Minded Media, Ocean West Ent, Ben Taylor and Tamra Toryn as they present and invite you to come and experience a gala of multimedia celebrities coming together for the biggest dance party in the adult nightlife entertainment industry.
Desire is a mega industry event. Tuesday June 5th, 2007 at Hollywood landmark Montmartre Lounge, a Hollywood hipster's dream known for catering to serious A-listers, industry titans, jet setters and celebs. This mass media frenzy event will be showcasing a ultra risque lingerie show by Ms Luster Lingerie (msluster.com).
Media giants Oye Magazine (oyemag.com), L.A Xlarge and Pushinsider.com will be on hand covering the pink carpet and interviewing the arrivals.
Elegant Angel Inc. will be launching two of their latest and greatest DVD titles ever: "Super Squirt #5" and "Blow It Out Your Ass" making DESIRE a fully'powered mega double DVD release party beyond your wildest dreams.
The entire festivities will be hosted by an all'star cast with names such as Brittany Andrews, Charlotte Stokely, Ava Rose, Mya Luanna, Kate Frost, Puma Swede and the enchanting industry diva herself Mia Rose with surprise celebrity appearances all night long. Celebrating their birthdays will be powerhouse promoter Louis Depaz and adult star Elena Rivera. Colombian soap opera actress Amalia Aviles (www.amaliaaviles.com) will be on hand to unvale her 2007 calendar release. Live on stage, electro rock superstar The Fluffer will be performing her smash hits.
Music comes courtesy of nightlife advocates DJ Juice, Xvr, Deviate and Razor Ruz who will be tearing up the wheels of steel spinning everything from hip hop, top 40, mash ups, 80's rewind and funky electro house. Industry guests will receive complimentary gift bags provided by our sponsors. Expect to rub elbows with 1,000 + trendsetters, tastemakers, jet setters, local hipsters, and in-the-know celebrities!
Re-evaluate your Tuesday night options. Music and liquor flows 9pm to 2am. Industry in free all night!
Pink Carpet Arrivals : 9:30pm to 11:00pm
Location: Montmartre Lounge. 6757 Hollywood Blvd., Hollywood, CA.
RSVP: For industry and media RSVP to LouisDepaz@gmail.
Bottle Service: For table bottle service RSVP to 818.495.4175.

Live Entertainment, the company that produces Adultcon, the bi-annual consumer-based convention, is proud to present The Adultcon Awards at the Key Club on Saturday, June 9, 2007.
For the first time ever, nominees and winners will be chosen by their peers in the adult industry. The selection of nominees and winners is modeled after the Academy Awards system. Live Entertainment created The American Academy of Adult Arts And Entertainment. There will be 50 members of the Academy selected from a wide range of members of the adult community to participate in the selection of the winners. 5 respected individuals from the adult community will serve on the Board Of Governors, who will select the nominees.
Female talent is invited to submit themselves for consideration. Nominees and winners can take pride in knowing that their peers have chosen them. There are only 17 female talent categories. Winners will receive an award called 'THE NECKLACE'. It spells out 'Adultcon' with a diamond.
The show will be about 60 minutes with no entertainment. The party follows immediately after the show. Another first created by Adultcon, is the 2 red carpet arrivals. The first at 6pm is for the nominees, sponsors, presenters and voters. The second red carpet arrival is for the invited industry at 9:30pm for the post-party. If you would like to be considered for nomination or invited to the post-party, please read the details at AAAAAE.org.
The list of presenters, sponsors and all the show details are on www.AdultconAwards.com. Adultcon is a lifestyle brand providing live adult events for those demanding interactive entertainment. Live Entertainment, Inc. produces both Adultcon and the Adultcon Awards.
The F.A.M.E. Awards (Fans of Adult Media & Entertainment) are back! The first and only truly interactive awards event for the fans and by the fans, the F.A.M.E. Awards are set to once again take place during Erotica LA on Saturday, June 23rd, at 9 pm at the LA Convention Center.
This revolutionary awards show is set apart from all other award shows because the top adult stars and films of the past year are chosen exclusively by the fans in two rounds of voting. First they choose the finalists, and then ultimately the winners.
Industry leaders Adam and Eve, Genesis Magazine, Wanted List and AVN (Adult Video News) have partnered together to bring the F.A.M.E. Awards to the masses.
'Last year's show was a great success as we received tens of thousands of votes from fans and the stars really embraced it,' says Dan Davis, Editor-in-Chief of Genesis. 'The feedback we received from both the industry and fans has encouraged us to make this year's F.A.M.E. bigger and better.'
'Adam & Eve is definitely looking forward to being a part of F.A.M.E. for the second year in a row,' says Katy Zvolerin, Director of Public Relations for Adam & Eve. 'Last year's response was truly overwhelming, and we are planning many new and innovative updates for the fans and voters this year.'
Beginning on February 15th,, fans above 18 and over can go to the F.A.M.E. website and vote for who the finalists should be in the appropriate categories. The finalists in each category will be announced April 15th based on the pre-nomination results and voting will continue up to the day of the awards show. There will also be a few more categories added, as well as some special surprises announced.
'I'm thrilled that the FAME awards are about to get bigger, bolder and more exciting," said Paul Fishbein, president of AVN Media Network. "This fan awards show is a nice compliment to the AVN Awards, which are essentially a critic's choice awards event. This gives the end user a voice.'
'We're also extremely excited about some very cool and interactive new features to the voting site that will allow fans to get a more in-depth view of the girls,' says Anh Tran, co-founder of WantedList.
Hosts for the F.A.M.E. Awards Show will be announced in the coming weeks.
Location: Los Angeles Convention Center. 1201 South Figueroa Street, Los Angeles, CA.
Media: For media inquiries, please contact Katy Zvolerin at (919) 644-8100 extension 3121 or katy@adameve.com.


Erotica LA is an upscale consumer event that attracts over 40,000 people from the greater Los Angeles area. These open-minded consumers want to explore anything and everything erotic. As the largest event of it's kind in the world, Erotica LA offers a one-of-a-kind experience for both exhibitors and attendees.
Location: Los Angeles Convention Center. 1201 South Figueroa Street, Los Angeles, CA.
Media: To register as a media representative, please visit www.erotica-la.com/index.cfm?fuseaction=main.form_presspass and download the media registration form.
Exhibitors: Exhibit space is on sale now. For more information or to reserve a prime booth location, please contact Bonnie at Bonnie@erotica-la.com.

Source: Erotica LA Website